Team Stats
| | Phi | Bos |
| --- | --- | --- |
| Shots on Goal | 26 | 42 |
| 1st | 9 | 8 |
| 2nd | 9 | 12 |
| 3rd | 8 | 21 |
| Power Plays | 3 | 1 |
| Converted | 1 | 0 |
| Power Play % | 33% | 0% |
| Penalty Minutes | 7 | 11 |
| Faceoffs Won | 21 | 31 |
| Faceoff % | 40% | 60% |
| Hits | 27 | 29 |
| Blocks | 15 | 11 |
The Flyers put forth a great defensive effort through the first 10-15 minutes of today's game at Boston; the only meeting between these two teams at Boston this season. Philadelphia played more of a defensive game early on, employing a dump-and-chase defensive method, stopping the Bruins dead in their tracks throughout the first period within the neutral zone, preventing the latter from getting in rhythm offensively.
Despite the effort, Boston scored with 4:04 remaining in the first, when multiple Flyers couldn't successfully clear the loose puck from the defensive zone, and Ray Emery's (who got the start today over Mason) crease. The turnovers, and lack of a clear, led to Boston's first goal; a wrister by Boston forward David Krejci, his 17th of the year. The Fly Guys out-shot the boys in yellow-and-black 9-8 in the opening stanza.
Perhaps the most impressive stat for the Flyers was the fact that they didn't have a penalty against them until less than five minutes remaining, when a frustrated Claude Giroux slashed Bruins' blue liner Matt Bartkowski for the team's first and only penalty for the game. On the flip side, the Flyers capitalized on one out of their three total man advantages on the day, with winger Wayne Simmonds backhanding a Mark Streit slapshot from the point to tie the game at one apiece.
(Michael Dwyer/AP)
Philadelphia still has the best road power-play in the league, and a respectable 10th-ranked power-play overall this season. In their past five road games, their power-play has gone 3-12, despite only playing five road games in the past 28 days. Philadelphia's played seven out of their past 10 contests on home ice. They face the league's worst team in Buffalo tomorrow night (7:30 PM EST/NBCSN). The Flyers will try desperately to rebound after their recent losses, and scoring woes. They've only scored two goals in their past three games; two games of which they were shut-out (despite earning a point in the shut-out shootout loss at St. Louis four nights ago).
Buffalo is dead last in the Atlantic this season; a whopping 62 points behind division-leading Boston, who now has 113 after the win vs. Philly. The Sabres are 1-2 this month, while the Flyers are 0-2-1; despite an impressive record the previous month of 9-3-2.
Back to today's match-up, Boston had an incredible 21 shots in the third period alone, not only out-shooting Philly 21-8 in the final period, but out-scoring them more importantly 3-0. The opposition came with the offensive pressure in the third period that made the difference in the game. Ray Emery made a plethora of great saves in the game, stopping point-blank shots, multiple rebounds, and tough shots at awkward/disadvantaged angles, especially in front of the crease where at times the Flyers defense couldn't get it together.
The Flyers were a -3 in giveaway/takeaway differential, while Boston broke even. In the face-off department, Boston handily defeated the Flyers 31-21. Overall, it was a very intense, physical game for both sides, as the two teams combined for 56 total hits; 29 of which belonged to Boston. Continuing with the theme of physicality, Philadelphia blocked 15 shots to Boston's 11. Four of the 15 blocked shots belonged to defenseman Andrew MacDonald, who had another strong (defensive) game, with 20:59 minutes of ice-time, four blocked shots, an assist on the Jay Rosehill goal, and a +/- of 0, despite the team allowing five goals on the day (one of which was an empty netter).
It was also a big day for Flyers' enforcers. Zac Rinaldo, who's been playing great as of late, put together another respectable performance, and his minutes have increased because of his play (from 8-9 minutes earlier on in the season to 12:33 in today's game). Despite being a -2 in the game, Rinaldo had a huge penalty that he drew against Milan Lucic just 51 seconds into the contest. Rinaldo didn't even register a penalty minute either; a rarity for him. He also chipped in with two shots on goal and a team-leading seven hits.
Jay Rosehill, who dressed for the first time in nearly a month (28 days; 12 games), played in place of young winger Tye McGinn; the latter of which has struggled as of late. Thus, Flyers' head coach Craig Berube decided to play Rosehill, to get him in a game or two before the season concludes in roughly a week, as well as to give McGinn a rest.
As for Rosehill, he chipped in as well, namely with a goal; his first since November 9th against Edmonton. Rosehill also had a fight vs. Bruins' fourth-line right-winger Shawn Thornton; an impressive bout for Jay, especially considering the amount of time he's been inactive as of recently. Rosehill scored on his only shot of the game, while also going a +1, with three hits and one giveaway in just over five minutes of action. Despite the limited action today, Rosehill held his own.
Captain Claude Giroux registered his first point, an assist on the Simmonds' power-play goal, in four games since tallying three points vs. Toronto on March 28th. In the those three point-less games vs. Giroux, the team suffered a slide as well, going winless. This all but proves the fact that, especially this season, when Giroux goes, the team goes. When Giroux registers at least one point in a game this season, Philadelphia is 32-13-3 in those respective games. The big keys, if the team makes it, come playoff time of this season will be Giroux's play on/off the score sheet, and goaltending.
If Giroux can play like he did two years ago in the opening playoff round vs. Pittsburgh (14 points in six games; six goals and eight assists), the team has a great chance to not only make it past the first round, but succeed onward from that point as well.
Bruins' star, and alternate captain, Patrice Bergeron has been a tear as of late. With the assist he registered today on Johnny Boychuk's third-period goal (and game-winner), Bergeron extended his point-streak to 11 games; a career high. In that time span, he has 15 points; nine goals and six assists. Boston is 8-2-1 in those 11 games, since the streak began on March 17th vs. Minnesota. First-line winger Loui Eriksson led all Bruins in points with four; all of which were assists, while Lucic had a solid three-point performance; two goals and an assist.
Krejci chipped in as well with two points; being named the game's first star of the game as well. Krejci leads the team in scoring this season with 64 points. Boston's leading goal scorer Jarome Iginla missed the game with a lower-body injury, despite playing in the team's last game at Toronto, while defenseman Kevan Miller was a healthy scratch; his first game missed since January 9th vs. LA. Due to Iginla's absence, prior to the game, Loui Eriksson was moved up to the first line to accommodate for the loss. Iginla has 30 goals and 61 points in 76 games played this season.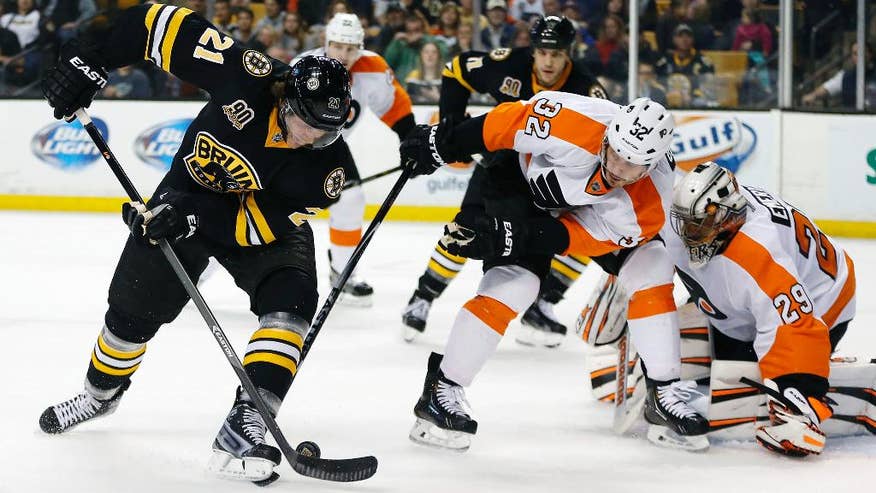 (Michael Dwyer/AP)
This was just his second game missed due to injury this season; a rarity for the veteran superstar. With his goal last Sunday at Philadelphia, Iginla now has 12 30+-goal seasons in his career, out of 17 total. Bergeron was also deadly from the face-off circle today, winning an insane amount of draws; 14/18 (77%) to be exact. In Iginla's absence, Eriksson stepped up, not only with the four helpers, but leading the team in shots-on-goal as well with seven. Eriksson also led the team in +/- as well (+3).
B's captain Zdeno Chara had a strong game, although not as strong as his performance last week vs. Philadelphia. It's safe to say that it was a strong all-around performance for Claude Julien's Bruins. They swept Philadelphia this season in the season series 3-0; the first time Boston has done so vs. Philadelphia since the 1989-90 NHL season, when current NHL analyst Mike Milbury was the head coach. This is a positive sign for Boston, in terms of history, as that 1990 team made it all the way to the Finals, before eventually bowing to the Stanley Cup champion Edmonton Oilers in five.
If Boston repeats history this year, this will be their third Finals appearance in the past four seasons.
As for this season vs. Philadelphia, with the win today Boston has outscored Philadelphia in their three contests/defeats 15-6. Both teams are two of the best third-period teams this season, and Boston proved -- and continued -- their dominance in the third, while Philadelphia looked flat, lost, and downright embarrassed in the third; one that looked like a game in itself considering the goal and shot output by Boston, as well as their play in general defensively/offensively.
Good news for Flyers' fans: they face the worst team tomorrow, with hopes of rebounding after this tough loss. As for Boston, they'll go on to face Minnesota at St. Paul on Tuesday night, with hopes of continuing their winning streak as the season concludes. Boston has four games remaining on their regular-season schedule, while Philadelphia has five; three of which are playoff contenders vying for spots in the East.
Despite the loss; and allowing four goals, Flyers' backup netminder Ray Emery, aka "Razor", put forth a solid performance nonetheless vs. a solid Boston offense, one of which contested him with 41 shots (42 if you count the empty-netter). It's a very positive sign for Flyers' coach Craig Berube heading into the stretch run here, as the team has two strong goalies to work with.
Philadelphia, if they make the playoffs, has a chance to play Boston in the opening, quarterfinal round of the upcoming playoffs this year, depending upon where they fall after their five remaining games conclude. The only way this were to happen is if Philadelphia were to fall down to a Wild-Card spot; either of the two, and if Boston earns the first or second seed ahead of Pittsburgh in the East. Time will tell as to whether or not Philadelphia will break out of their recent funk, make the playoffs, and if they'd play Boston in the opening round as well.
If this were to happen, all signs point thus far to Boston probably sweeping (or winning in five) Philadelphia considering the former's overwhelming success vs. the latter this season, although the playoffs are a totally different animal. It would also be the two teams' third playoff match-up in the span of five seasons. They've split the first two playoff meetings recently.
Three Stars of the Game
01. Loui Eriksson- 4 points (0 goals, 4 assists)- +3, 7 shots-on-goal
02. Milan Lucic- 3 points (2 goals, 1 assist)- +2, 2 shots on goal, 2 PIM
03. David Krejci- 2 points (1 goal, 1 assist)- +2, 4 shots on goal
Honorable Mentions
-Patrice Bergeron- 1 assist, +2, 5 shots on goal, 14/18 on face-offs
-Wayne Simmonds- 1 goal, 6 shots on goal, 3 blocked shots
-Zac Rinaldo- 2 shots on goal, 7 hits, 1 penalty drawn
-Ray Emery- 37/41 saves/Tukka Rask- 24/26 saves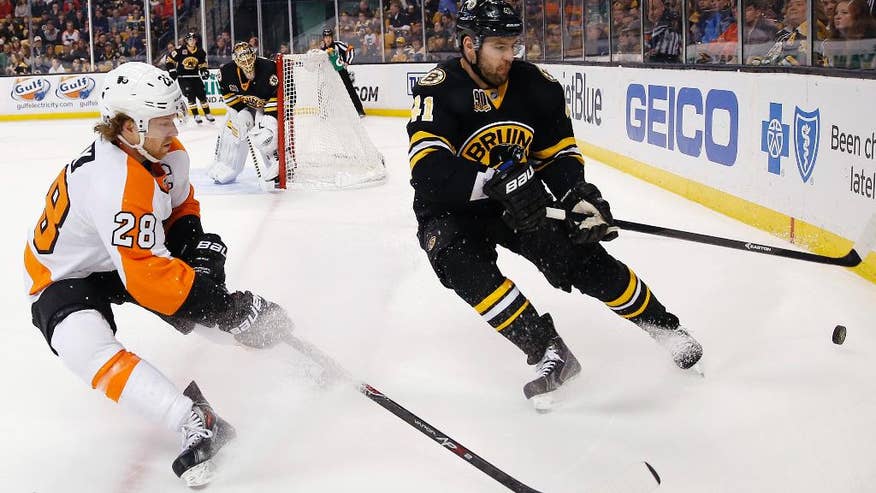 (Michael Dwyer/AP)