Bill Barber was a guest of Mike Ross and Phil Esposito on the In the Slot program this afternoon on XM 204. He discussed his relatively new role with the Flyers as scouting consultant, but most of the discussion was dedicated to the Phantoms. The interview touched on the Phantoms situation with the closing of the Spectrum, and their future beginning next season.
Barber mentioned that "the Spectrum will be occupied until September of 2009," implying that the Phantoms could in fact play home games there at the start of next season. From all of the literature being produced by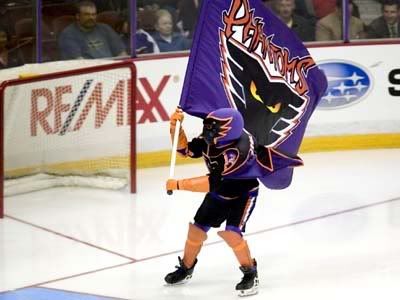 the team this year about the final year of the storied building, and the hype around the Phantoms opener as "the last home opener in Spectrum history," I doubt that this is really a possibility. But, nevertheless, Barber mentioned it.
Bill was also asked about sites the Phantoms could call home next season. While he was sure to mention that nothing is set in stone, he stated that "playing some games at the Wachovia Center ... is a possibility." He also name-dropped a few locations, starting with Atlantic City and also mentioning Delaware, Allentown, and "even across the river in Camden." But as far as one concrete spot for the spot for the Phantoms to call home next season, Barber said he has "not heard anything."
To me, the most groundbreaking comment Barber made on the subject was that "the Phantoms could be a travelling team next season." Personally, I find that a little hard to believe, and I don't even know if the AHL would allow that to happen.
If you're asking me, and I may be a little biased as a former Atlantic City Boardwalk Bullies season ticket holder, I feel like the Phantoms are going to play next season at Boardwalk Hall. It is the only option right now when it comes to a completed, hockey-ready arena in the Philadelphia area. Allentown would be a better option, perhaps, but there is no arena there. There have been talks for years about an ECHL team coming to Delaware, but it's ever happened and there is no arena there. Camden? No arena either.
Even if nobody attends the games, which if you look at the Bullies history in AC, it's certainly fair to speculate that, Comcast-Spectacor is willing and able to eat those losses. It's only an hour from Atlantic City to Philadelphia, and they love having the players under same practice roof and playing home games in such a close proximity. A move to AC, even if only temporary until a better situation is resolved, keeps the cozy relationship between the Flyers and Phantoms going.