Holy shit. The Flyers stormed back from a 5-1 deficit entering the third period to win 6-5 in a shootout last night.
Game recaps: NHL.com | Daily News | Inquirer | NHL.com Highlights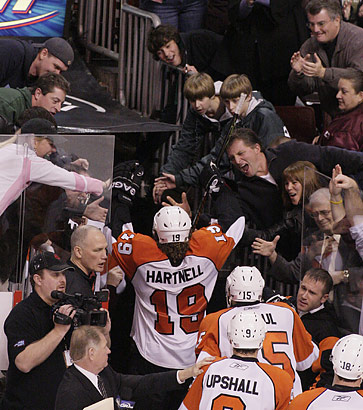 B&P's Take: This game just seemed destined to be a loss. Carolina began celebrating their third goal as Lou Nolan was announcing the Flyers first one over the PA. The refs were atrocious, with Scott Walker boarding Andrew Alberts, the Flyers coming to their teammates aid, and then somehow going down five-on-three.
It was 5-1 after two. I mean, seriously?
Scott Hartnell had an awesome game, with a fight and a hat trick... just an assist shy of the Gordie Howe version. As the Flyers were storming back in the third period on goals from Hartnellx2, Upshall, and Gagne, Antero Niittymaki was stellar at the other end, with his biggest save perhaps coming with about 2 minutes left on a Carolina 2-on-1.
During overtime, the Flyers were again forced to go on the defensive following a too many men on the ice penalty. But at this point it didn't matter. The Flyers weren't going to be denied. Momentum means so much in this sport, and the good guys had absoultely every possible ounce of it. Nitty came up huge with several big saves, and the Flyers got it to the shootout.
I can't remember the last time the Flyers won a shootout, honestly, but I also can't remember a goalie performing as badly in one as Michael Leighton did last night. He committed to Gagne's shootout attempt REALLY REALLY EARLY and wound up out between the faceoff circles while Gags tossed it into the empty net. It would be the game winner, as Mike Richards would score and Niittymaki would make three stops to secure the victory.
Unbelievable game. It was the first time since 1975 that the Flyers came back from a 5-1 deficit in the third period to tie the game. This is one that shows us what this team really is made of.
You can fall down 5-1 pretty easily, but to come back from that and win takes a full team effort, and everybody on that team, from John Stevens to Luca Sbisa to Aaron Asham to Gagne and Hartnell all deserve credit. The Hurricanes may have pulled a bit of a New York Met-like performance, but very much like those World Champion Phillies, the Flyers were there to capitalize.
Eastern Conference, look out. The Flyers are good.
B&P's Three Stars


Scott Hartnell


Simon Gagne


Antero Niittymaki


Turning Point of the Game: John Stevens gave a speech during the second intermission, and the motivation he used for his team was something I'd never heard before. He asked the team to do it for the fans. Stevens, in his post game press conference:



We had fans that battled through the rain here tonight to come watch our team play and we weren't doing a very good job of pleasing them to that point. And I thought the guys came out and responded with a great effort, and it does show a sign of the character of our hockey team 'cause it wasn't just one guy. It was across our lineup right back to the guy in the net that stayed with it and got it done.



In the Doghouse: Normally I would say the refs, but I just can't be angry after a win like tonight.
The Penguins crushed the Islanders 9-2 last night. The Flyers host Pittsburgh on Saturday.
Go Flyers.