Defenseman Randy Jones, who has been out all season with a hip injury, might return to the lineup tomorrow night against Colorado. He has been cleared to play by doctors and he says he's ready to go, but coach Stevens wants to be sure he's ready before throwing him in the lineup.
"Medically he's been cleared but we want to make sure we give him enough time to get his timing and that he's game ready before we stick him back in, so we'll discuss that today and figure it out tomorrow," Stevens told the media on Monday.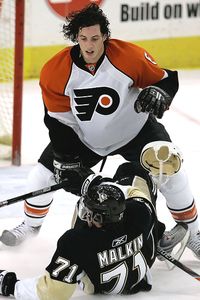 "It's all repaired and stronger than before," Jones said regarding his surgically patched up hip.
"It's almost been six months really since I've last played a game," continued Jones, "but more and more everyday I feel like I'm getting more comfortable and getting back to the same speed that I was at."
The Flyers are going to have to make a roster move to fit Jones in the lineup.
Stevens avoided a question regarding Luca Sbisa and the possibility of the 18-year-old being sent back to juniors to make room for Jones, but the coach did say that he's happy with the current defensive group, so it'll be a tough decision to make.
My guess is that whenever Jones does get back into the lineup, whether it be tomorrow or Thursday or even Saturday, it'll be Sbisa who is the scapegoat. He's performed better than could even have been expected, but some extra time in juniors can only help him.