The Flyers fell to the Devils 3-2 tonight on an overtime goal by Patrik Elias. Scott Clemmensen made 29 saves to get the victory. Philly goals were scored by Kimmo Timonen and Scottie Upshall.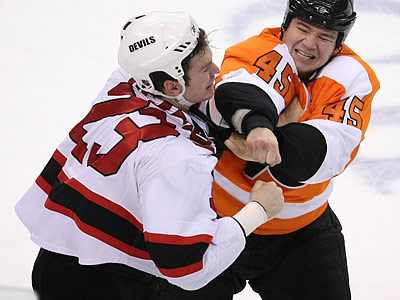 B&P's Take: Should've been two points. Extremely frustrating. The Flyers played really sloppy hockey the entire game, but the Devils didn't do much better. They had this one in their grasp when Biron made an absolutely terrible play to blow all the momentum the Flyers had, which carried over in OT where Elias would score the eventual game winner. The bottom line is that the Flyers didn't deserve this one, but a good team would've pulled it out. Disheartening loss... move on and get 'em on Saturday.
B&P's Three Stars


1. Patrik Elias: Two goals, including the game-tying goal and the game-winner in OT.


2. Scottie Upshall: The go-ahead goal in the third, and an all-around quality performance.


3. Scott Clemmensen: Kept the Devils in the game and outperformed Biron.


Turning Point of the Game: Elias' first goal, an absolute laser from the point that snuck through Biron, tying the game at 2 late in the third.
In the Doghouse: Marty Biron, WHAT THE HELL?! He plays the puck away from his own man behind the net, right to the Devils, who take a shot that hits Marty in the chest and still gets by him... the worst overall play I've seen by a goalie in quite some time. It would've been icing on the Devils and it was just a stupid move deciding to play it. Even worse, his puck handling has been extremely suspect lately, and after the game, Marty told the media that it's not a concern of his. Weak, Marty, weak.
Injury Update: Luca Sbisa took a puck in the face with about a minute left in the 3rd period, but he quickly stood up and headed to the bench with nothing but a black eye to show.
The big story on the injury front was Simon Gagne heading off during the second period and not returning. Paul Holmgren announced after the game that Simon was suffering from dehydration and he should be fine for Saturday's game, but my God Paul, why did you make us suffer so long without telling us what happened. It makes me suspicious, and that's all I'll say.
Kimmo Timonen also left the game with what Holmgren called a slight upper body injury. He should be fine, but time will tell, I guess.
Let's hope Saturday comes quick.