The Flyers returned home to South Philly for the first time in 2009, but the results were just as good as 2008 as they beat the Wild 3-1.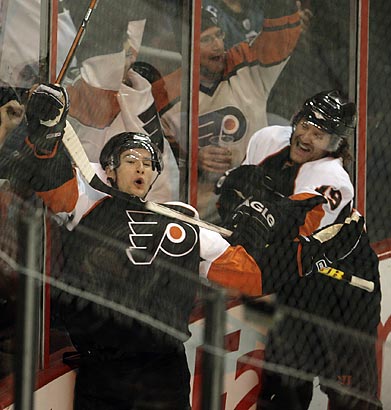 B&P's Take: It was a slow start, but when the Flyers got going last night, they looked like the damn good hockey team we remember from prior to the road swing. Now that's not to say they played poorly on the road, but they weren't the same white hot team that just trounced everything in sight. Last night, the Flyers shook off any rust they may have had, gave a giant middle finger to the injuries that they've suffered, and rolled to a 3-1 victory.
The ridiculous amount of stupid penalties has to stop though. There were four taken in the first period alone, not counting Aaron Asham's fighting major, and that surely was part of the reason the Flyers started so sluggish. Thankfully, the penalty killing was fantastic, and it was without a doubt the reason the game turned out a W.
Perhaps the best part of the evening, besides returning home and delivering a solid win in front of a raucous crowd, was the fact that the Flyers ended Niklas Backstrom's shutout streak. When Scott Hartnell scored at 7:10 of the second period, it halted the streak at 149 minutes, 9 seconds.
Quoted



"Terrible, terrible. We gave them the game. We couldn't even score a goal on [eight] power plays.''
-- Kim Johnsson


"The penalty killers were huge and they won the game for us tonight." -- Scott Hartnell

"The way we've been able to absorb the amount of injuries we've had, I think it's a credit to the organization because the depth here has been terrific. We've had guys come in and play -- Nodl comes in and plays, Powe comes in and plays, Sbisa plays forward, so the depth here has allowed us to continue to win hockey games. -- John Stevens

Questions With Answers:
1. How does Carter play after being named to the all-star game? He hasn't gone four games without a goal all season, and he hasn't scored in the last three. Does he score? Carter had another one of those not-as-bad-as-the-scoresheet-looks nights again tonight, but he certainly wasn't his usual dynamic self. He's going through a bit of a slump right now as he hasn't scored in four games, his longest drought of the season.
2. Can the Flyers bust out of the recent PP goal scoring slump? They scored just two PP goals during the six game road trip. 1-for-3 on the PP. Not exactly the best sample size, so let's not call the slump over just yet... but it's a start.
3. Braydon Coburn is coming off perhaps his best game as a Flyer, playing nearly a half hour and scoring a goal. Will all that ice time take a toll, or does he have another dominant performance? Coburn once again led the Flyers in ice time, and played a solid game, albeit against a weak offensive opponent.
4. How does the team react to the home crowd after being away for so long? Slow start, followed by fire. As Mike Richards put it: "It's tough when you get back because you can get complacent after a long road trip when you get back home, but we could find our energy from the crowd and had a couple different players step up."
Rangers idle, Pens lose, Devils lose, Isles lose, Flyers win. How's sole possession of first place sound?
Toronto, HNIC, Saturday night. Go Flyers.